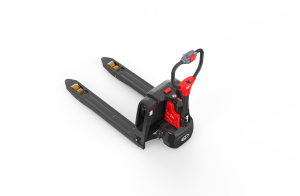 Operator safety and equipment uptime are crucial to every business. This is why it's important to use a professional company that takes pride in its personnel, equipment and services when it comes to electric pallet truck servicing.
Using our SHS Electric Pallet Truck Service and Repair Plan gives you peace of mind that your vital equipment is regularly serviced and kept in a state of good repair. Having your handling equipment serviced regularly is crucial for keeping it in the best working order.
We recommend electric pallet trucks should be serviced at least every 12 months. Our annual service is a cost-effective way of ensuring all your handling equipment remains in peak condition.
What we can offer
The SHS electric pallet truck service covers multiple types of handling equipment, such as Still low-lift electric pallet trucks, DriverTruk 10/30, PowerGlide 1200+ and manual pallet trucks.
We can service almost any type of truck, including all brands of pallet trucks, Sano Electric Stair Climbers, Magliner Hand Trucks, Magliner Powered Gemini Trucks, Stevens Trucks, Liftkar Powered Stair Climbers, Expresso Trucks and more.
We understand how important it is that your business equipment is fully functional. The SHS nationwide servicing and repair service will help ensure faults with equipment don't shut down your productivity. Our aim is to keep downtime to a minimum with annual servicing by making sure your equipment is in the best shape possible.
What industry standards does an SHS pallet truck servicing meet?
Our electric pallet truck servicing will guarantee that your equipment meets key recognised industry standards. These include LOLER 98 (Lifting Operations and Lifting Equipment Regulations 1998) covering your equipment's lifting components.
Our servicing will also meet PUWER 98 (Provision and Use of Work Equipment Regulations 1998) standards. This standard covers all other safety-related items, including steering, brakes and tyres.
What are the rates for electric pallet truck servicing?
Our pricing structure charges a set rate, depending on the number of pallet trucks you need servicing and the make and model. There is a set price for servicing one to two pallet trucks. If you bring in three or more pallet trucks, the cost of servicing per truck is lower.
Our normal working hours are 8.30 am to 5 pm. The cost of an out-of-hours service is slightly higher to reflect this. Half an hour's labour is included in our servicing costs. Any subsequent time will be charged at our standard hourly rate.
What does the breakdown cover offer?
Our breakdown cover relates to a repair to a truck that is damaged or has broken down and needs fixing. Once a breakdown call has been logged, the truck shouldn't be used, as it could void the warranty or make the issue worse.
We can come out in response to a request to examine the pallet trucks onsite. Alternatively, we provide a drop-off and collect service at our internal workshop. This enables clients to deliver your trucks to SHS.
We will carry out the necessary repairs, for a flat rate plus the cost of part replacements. You can then collect your trucks directly from our internal workshop. The flat rate varies, depending on the quantity and make of the trucks.
We specialise in repairing almost every brand and model, including the industry-leading Still electric pallet trucks.
Areas covered by SHS
Based in Brackley, on the A43 in Northamptonshire, SHS is centrally located, enabling our team to serve the UK mainland with ease. We are a family-owned business and have been in operation for more than 20 years.
We have enjoyed significant expansion since our foundation, as a result of our innovation, resourcefulness, reliability and our ability to meet all customer requirements. Our fast-acting and dedicated staff are here to assist and advise clients when necessary.
Company mission
Our mission is to provide the best on-site servicing, product sourcing and online purchasing services for clients across the UK.
We truly excel at our on-site servicing facility, as SHS Handling Solutions offers nationwide coverage, provided by our team of fully-equipped and qualified engineers. We are equipped to service any make or brand of Magliner Hand Truck, Powered Stair Climber, Pallet Truck, Skoots Lifter or PalBac equipment.
Here at SHS, we also have excellent product sourcing abilities. When you're struggling to find the appropriate products to meet your requirements, call our sales team, who will provide the best service to satisfy your every need.
We also invite customers to shop online, providing an effective way of using our services. Our user-friendly website is full of hundreds of innovative products to provide solutions for all your workplace requirements.
Give us a call to speak to our friendly and helpful staff for further information on our electric pallet truck servicing and repairs, or to arrange an engineer's visit. Our fast and reliable service is second to none and will fulfil all your needs.