Pump action pallet trucks have been a mainstay in the material handling industry for years, but innovative operations have been quick to realise the numerous benefits to be found in the latest options available.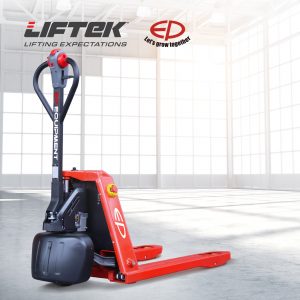 From warehouses and factories to distribution hubs in the retail industry, enterprise owners operating sites across the UK have recognised the potential of using electric pallet trucks. Running on rechargeable batteries, these impressive options present sites with a low-maintenance, easy-to-handle workhorse capable of carrying considerable cargo while lightening the load for their drivers.
In the following sections, we'll introduce and explore the Liftek EP DriverTruk 30 Plug in Fully Electric Pallet Truck in detail; an ingenious addition to the growing fleet of outstanding equipment available for material handling.
Getting to grips with the DriverTruk 30


This compact fully-electric pallet truck from Liftek was designed to cope with a wide range of different working patterns and not only had a built-in battery but an onboard charger as well. It features an innovative design that is simple to use, making it an excellent replacement option for firms keen to update the hand pallet trucks they currently use to go electric.
The DriverTruk 30 was engineered for versatility, allowing it to suit an extensive selection of applications and environments. Its popular uses include warehouse locations and serving as a pallet truck in both the retail and beverage industries.
Seamless productivity for enterprises
This innovative option from Liftek is all-electric and runs on a Lithium-Ion type battery that is in-built as part of the truck's design. While many electric pallet trucks require plugging into a charging station and considerable downtime between uses, the DriverTruk 30's charger has been installed onboard. This means that the pallet truck is a perfect solution for companies using different working schedules, whether they need to support daily operations or use patterns that involve back-to-back shift work.
The Lithium-Ion battery has a lengthy three-hour charge that covers constant usage but also supports 240-volt three-point charging if required for operations.
Optimised handling for a wide range of applications
Entirely electric, the DriverTruk 30 has forwards and backwards motion and electric lift. It has variable speeds to answer different work rates and has been engineered for different terrain common to material handling situations. It can drive on warehouse flooring, half-drop kerbs and broken-up pathways with ease.
Designed with drivers in mind
This advanced electric pallet truck was developed to offer operators an easy-to-handle option along with increased safety. It boasts a brand-new handle array design that is comfortable to use and keeps key controls easily in reach.
It has an effortless motion that takes the strain off drivers while promoting health and safety. This is achieved by its "super safe components" policy that can avert injuries.
The DriverTruk 30 also features an electromagnetic braking system, ideal for avoiding accidents and property damage. Exceptionally light to handle, the pallet truck only weighs 120 kilograms.
Pallet truck specifications
The DriverTruk 30 has a load capacity of 1500 kg and a lift height of 115 mm. Its overall dimensions make it 1540 mm by 560 mm in width, while the standard dimensions of its forks are 560 mm by 1150 mm. However, other sizes of forks are also available.
Experts in the latest material handling equipment
A family-owned business, SHS Handling Solutions Ltd has been supplying superior service and products for over two decades. Our dedicated staff act fast, offer technical advice and provide a customer experience that is second to none.
We now have the DriverTruk 30 in stock, available with free delivery. Contact our team today to place your order.